We provide high quality masks with custom prints, designs, and logos. Whether you need prints for your company logo, matching designs for weddings, schools, we are happy to get you the custom look you need.
Est. 2020
Custom Masks and Wholesale Masks in Los Angeles
Custom Mask Brothers is the first providers of custom masks serving the Los Angeles area. We began our journey providing high quality masks for retail locations, and quickly realized that many of our customers were requesting custom designs. We strive to provide quick delivery times, fair prices, and the customizations that you need.
Thus began out mission to provide the highest quality custom masks for all of our clientele. Whether we got requests from businesses to maintain a uniform branded look, schools to provide matching designs for their staff and student body, or for couples on their special day, we go out of our way to deliver the exact specifications you need.
We provide top of the line quality products. For example our primary supplier of masks is Invisible Defender, which is a 2 ply mask, comprised of a 60% cotton and 40% polyester blend. This allows us to provide comfort and breathability, while also providing a better level of protection.
The Invisible Defender masks were also manufactured with the consultation of a fashion industry guru, who assisted us maintain a rigorous retail quality consistency with our mask production. We can also provide the Invisible Defender masks at wholesale pricing, so just give us a call and we can provide you a quote.
Why Choose Custom Mask Brothers?
Customize Your Mask For Any Organization or For Any Occasion.

Retail Quality and Consistant Masks Ensure Style and Breathability.
We Also Offer Our Top Quality Masks Without Designs at Whole Sale Prices and Quantity.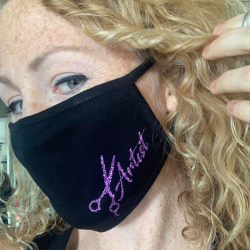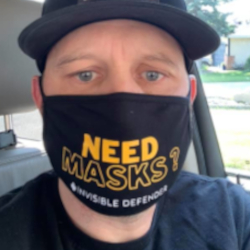 Why We Choose the Poly Cotton Blend?
When buying masks for employees, students, wedding guests, or customers, sellers may be overwhelmed by the range of styles and fabrics from which they can choose. Though some are still unfamiliar with it, poly cotton is a common choice among those needing durable, yet breathable face masks. In this guide, we'll offer some poly cotton facts to help you make a more informed purchase decision.
As the name implies, poly cotton combines the strengths of two fibers: synthetic polyester and natural cotton. The ratios of these fibers may vary depending on how the fabric is to be used. Face masks and work clothes are typically composed of 35% polyester and 65% cotton. These blends are lightweight and thin enough to be used in face masks, but they're also durable and strong enough to endure the rigors of daily use.
Polyester cotton blends are made by combining natural cotton fibers with synthetic polyester at the fiber stage or the yarn stage. Blending the fibers at an earlier stage yields a more expensive, yet higher-quality fabric.
What Are the Uses of Poly Cotton Fabric?
Polyester and cotton blends are durable, soft, affordable, and breathable, which is why they're commonly used to make bed sheets, napkins, tablecloths, work clothes, and many other products. With these benefits and many others, we're bringing our customers the highest quality face masks on the market today.
The Benefits of Branded Face Masks for Your Company
Custom printed face masks are more than a branding exercise; they make a statement about your company. Your mask selection will determine the way the business is perceived, so it's important to choose wisely. Here are a few major reasons to choose our branded face masks.
• Promoting a sense of community. Job satisfaction is crucial to a company's success, and employees tend to be more satisfied when they feel as if they belong to a team. When your employees wear our printed masks, everyone's on a level playing field and there's a greater feeling of solidarity.
• Building pride in the workplace. With branded masks, it's important to implement policies your employees can live with. Our masks are breathable and comfortable enough for all-day wear, which will make your employees more comfortable and more productive.
• Saving money and time. Because mask requirements are so widespread, the market has been flooded with options. It can be tough to choose the right type of mask for a long day's work, but we've made the process easier. With our branded face masks, employees will find it easier and less expensive to get ready for the day.
• Increased productivity and efficiency. We know that we should "dress for success", but it's sometimes hard to act on that philosophy. Not all industries require full uniforms, and in some fields, a more relaxed dress code makes sense. However, coordination and comfort give rise to productivity. With branded face masks and work apparel, employers can organize teams across the entire company. Our masks can be printed in numerous colors and designs, which makes them suitable for a range of applications.
• Safety, security, and health. Another worthwhile consideration is the security advantages that come with being able to quickly distinguish between employees and customers. Our masks can be printed with your company's logo, which will make it easier for customers to recognize staff members. When workers are easily recognized, they become more approachable.
• Building brand awareness. Having employees—especially those who regularly encounter customers and other workers—wear custom face masks will increase brand awareness while keeping everyone safe. Our printed masks work well when combined with other offline and online marketing efforts, and they're a subtle yet effective form of advertising.
• Stronger identification with the company's mission statement. When employees wear corporate apparel such as face masks, they typically identify with the company's goals, mission, and values. If a worker feels accountable for holding such principles, they're more likely to represent the company properly. This level of dedication usually brings an improvement in customer service.
• Bringing a sense of consistency. When customers can count on having a positive experience every time they visit, they're more likely to come back. Our branded face masks provide a more consistent appearance for employees, which reinforces those feelings of reliability.
• They make great promotional items. Though our masks are great for employees, they're also an effective promotional tool. When companies give away branded masks, it gets people talking, and customers become brand ambassadors.
These days, safety is more important than ever, but corporate unity runs a close second. With our custom printed face masks made of a durable, tough, and breathable poly cotton blend, companies can meet their goals effortlessly. Call or click for a no-obligation design quote today.
HIGH QUALITY, CUSTOMIZED MASKS
1641 GRANVILLE AVE #4
LOS ANGELES CA 90025
(213) 799-2499